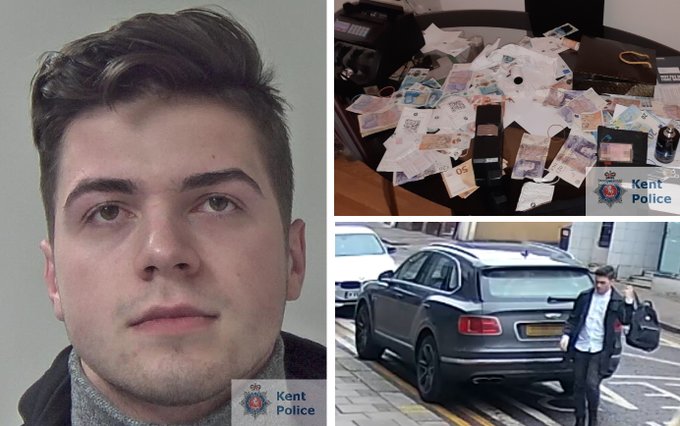 Bazyli Rymarz, 22, was sentenced to almost five years in prison for laundering money for a band of Bitcoin ATM con artists.

A thief who laundered £2 million ($2.6 million) for an organisation that used cryptocurrency ATMs to deceive victims has been sentenced to prison.
He was found to have laundered $2.6 million on behalf of criminal associates who exploited a network of bitcoin ATMs as part of a fraud scheme between September 2018 and January 2020. The gang's scheme comprised convincing victims that they owed money to British authorities, then instructing them to deposit the money using cryptocurrency ATMs, which the group subsequently took.
"There was no proof that Rymarz was personally involved in these scams," Kent Police said in a statement. "However, investigations revealed the breadth of his role in the gang that laundered the unlawful money."
Rymarz was also related to Wedso Ltd, a UK-based company that failed to register for VAT and didn't pay corporation tax on its earnings.
Rymarz's lavish lifestyle
A jail term has been imposed on a man who was part of a network which laundered criminal cash.@kent_police, @_ERSOU and other forces investigated after he was repeatedly found in possession of large amounts of money.

Details here... https://t.co/gpVJHdhLPT pic.twitter.com/aW9asbIQhE

— Kent Police (UK) (@kent_police) December 20, 2021
Rymarz's large cash stash on the day of his arrest was not his first run-in with ill-gotten gains.
He was apprehended with £10,500 ($14,000) in cash at Luton Airport, one of London's busiest airports, in March 2019.
After being caught for speeding in October 2019, £38,000 ($50,600) and €13,600 ($15,300) were discovered in Rymarz's automobile. Law enforcement discovered another £5,400 ($7,100) and €8,200 ($9,200) in his Watford house after his detention in Dover. He was charged with money laundering but eluded capture after being released on bail. He was eventually apprehended in Bologna, Italy.
Bitcoin ATM scams
Law enforcement agencies all over the world are becoming increasingly concerned about Bitcoin ATMs. The FBI issued a warning last month about fraudulent schemes similar to those used by Rymarz's accomplices, claiming that "scammers are urging victims to use physical cryptocurrency ATMs and digital QR codes to complete payment transactions."
Online impersonation schemes, romance schemes, and lotteries are examples of such scams, according to the FBI, but they all have one thing in common: the victim is routed to a crypto ATM, which often offers anonymity. "These anonymous cryptocurrency ATMs may be non-compliant with United States federal regulations and may assist money laundering," the FBI said, adding that instructions to use these anonymous crypto ATMs are "a significant indicator of fraud."