703 total views
The first game created on the Ethereum network was CryptoKitties. Players purchase, trade, and breed cats to develop desirable characteristics. However, because of the game's popularity, it brought to light numerous flaws with how Ethereum operates, particularly when it comes to scalability.
When you mention blockchain games, one name is bound to come up repeatedly: CryptoKitties.
CryptoKitties is an online game in which users may purchase, trade, and breed cute digital cats. So far, so familiar; if you were born in the 1990s, you're definitely familiar with Pokémon or Tamagochi.
But CryptoKitties has one major advantage: each CryptoKitty is totally unique and is reflected on the blockchain by a non-fungible token (NFT).
A pioneering example of the technology, it captured the imagination of the crypto community with a fun and tangible example of what you can create using distributed ledger technology.
How do CryptoKitties work?
CryptoKitties are non-fungible tokens that were developed on the Ethereum network utilising the ERC721 token standard. Tokens on blockchains were formerly fungible, or interchangeable; every Bitcoin or Ethereum token is identical to any other. ERC721 enabled the development of non-fungible, one-of-a-kind tokens.
CryptoKitties was created to investigate the notion of digital scarcity via the use of smart contracts and ERC721 tokens.
Each CryptoKitty is one-of-a-kind and has its own digital genome, which is recorded in a smart contract. Any two CryptoKitties can be bred, and an offspring with its own distinct characteristics is generated via a genetic algorithm (or "cattributes"). Its visual appearance, or phenotype, is determined by the immutable genotype stored in the smart contract.
How do I buy a CryptoKitty?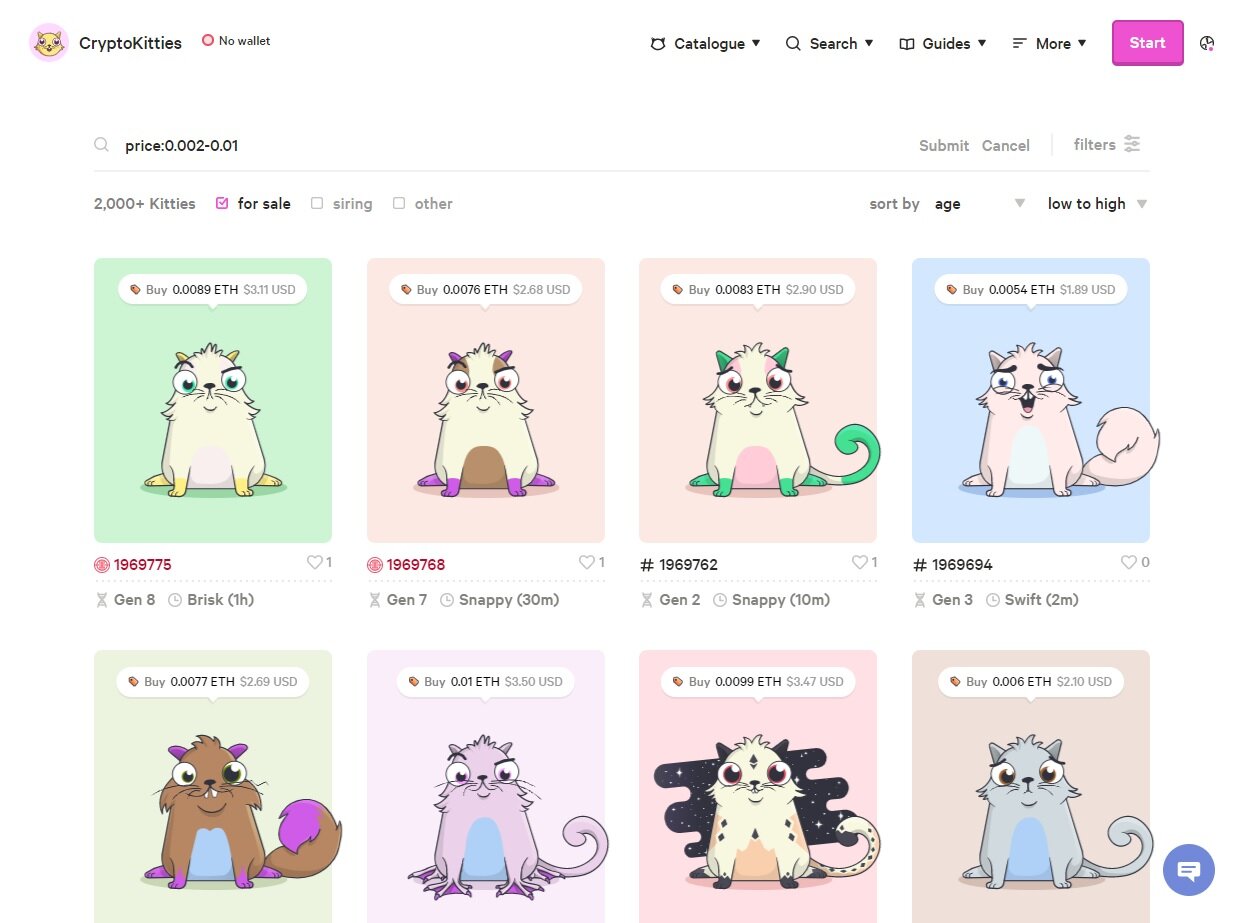 To get your hands on your own CryptoKitty, you'll need a couple of things: a computer or mobile device, a cryptocurrency wallet such as MetaMask, and some Ethereum.
Then, all you need to do is head on over to the CryptoKitties marketplace, create an account, pick a cat that takes your fancy and click "buy now." Assuming you've got enough ETH in your wallet, you'll be greeted with a Dapper transaction window where you can finalize your purchase. You can also bid on a CryptoKitty if it isn't up for sale, but it's up to the owner to decide whether they want to accept or not.
The most expensive CryptoKitty, named Genesis, was valued at $114,481.59 at one point. That's more than the most expensive 'real' cat on record, which only cost $41,435.
How do I breed CryptoKitties?
All you need to start producing your own CryptoKitty is a breeding pair, with either one acting as the Sire or Dame. The Sire will require a short recuperation period after breeding, which will grow with each sire. The Dame will be unable to reproduce while your new kitten is incubating.
To breed two Kitties, click on one of them in your litter, then click the "Breed" icon that appears; this will be the Sire. Then select "Sire with my Kitties," and choose a cat to play Dame; click "OK, give them some privacy" to open a transaction window, and you'll soon have your very own bouncing baby CryptoKitty.
Alternatively, you can breed one of your cats with a public sire, which will incur a small transaction fee.
CryptoKitties: born on Ethereum, now on Flow
CryptoKitties was originally built on top of the Ethereum blockchain. Within a week of the game launching, CryptoKitties accounted for 13% of all transactions on Ethereum. The total volume of CryptoKitties sales stands at over 61,000 ETH ($21m) as of October 2020.
CryptoKitties' popularity quickly became a problem for the Ethereum network, which could only process so many transactions at any one time. As a network gets busier, a queue starts to build. Breeding CryptoKitties became so popular, it prevented other businesses working on the platform from being able to verify their transactions quickly.
Many of these business cases were reportedly crippled by these rapidly multiplying digital cats.
In May 2020, CryptoKitties announced that it was moving to its own dedicated blockchain, Flow. The move will enable several new features for the game:
?️ 3D designs and animations for CryptoKitties.
? Scalability, enabling many more people to use the network at any given time.
? Free-to-play capability, since Flow uses the proof-of-stake consensus model.
? The ability to use CryptoKitties within other games built on Flow.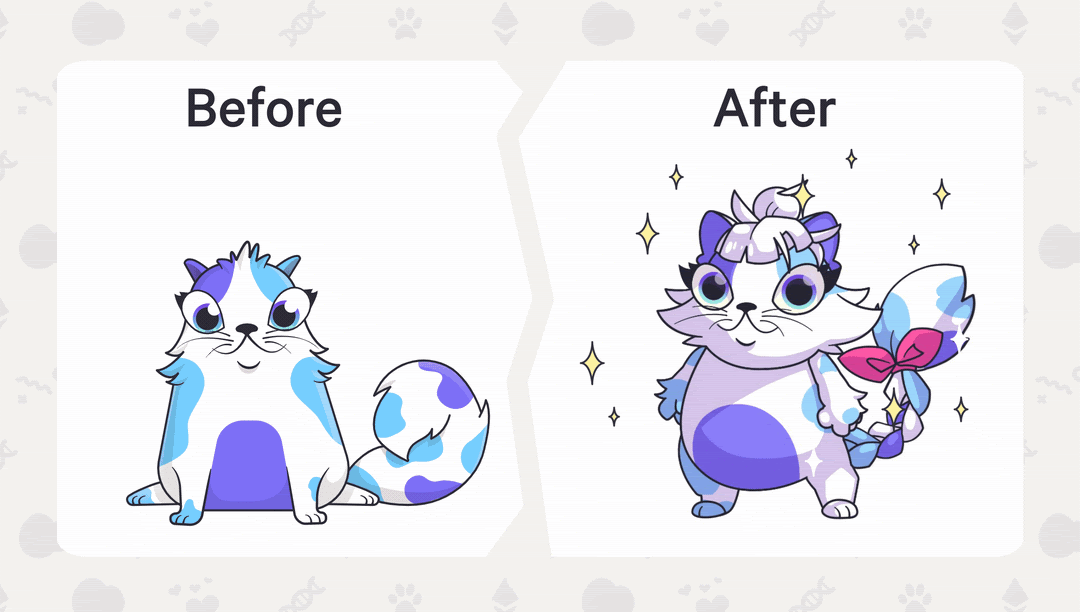 Collaborations with CryptoKitty designers
With the introduction of Cryptokitties, a new category of NFT-based projects known as crypto collectibles has emerged. CryptoKitties has introduced kittens inspired by unique content from unexpected sources since its beginning.
They include branded designs like a pair of CryptoKitties inspired by the British rock band Muse, as well as designer collaborations like one with Chinese artist Momo Wang, whose limited-edition CryptoKitties appeared on Nifty Gateway, a digital art marketplace sponsored by Cameron and Tyler Winklevoss.
A 2019 collaboration with NFT-powered trading card game Gods Unchained allowed CryptoKitties players to turn their cats into a Kitty-styled gaming card, though the functionality didn't extend to allowing players to migrate their CryptoKitty to Gods Unchained, use it in that game, and then send it back to CryptoKitties.
CryptoKitties in the Future
CryptoKitties is the first step towards the development of crypto-collectibles, a new type of digital goods that can be exchanged online. CryptoKitties initially struggled with scalability, but the switch to a new blockchain has aided the growth of an entire new sector.
Dapper Labs, the inventors of CryptoKitties, have big plans for its Flow blockchain platform, which has already garnered $11 million in funding and has backing from Warner Music Group and video game developer Ubisoft. They've also signed agreements with the NBA and Animoca Brands to bring the properties to their own cryptocurrency collectibles on the Flow network.
As Dapper Labs continues to build out Flow, though, the game that started it all will continue to purr contentedly at the heart of it.
Cannot load blog information at this time.