810 total views
Oracle that is not centralized Band Protocol bridges the gap between blockchains and off-chain data sources, however it competes with Chainlink, a well-established alternative.
Many decentralized apps (dapps) rely on real-world data to function, whether it's current cryptocurrency prices or sports scores—but blockchains aren't meant to access such data sources on their own. This is where oracles come in, acting as a type of intermediary to bring external data into the blockchain-powered dapp.
With the growth of decentralized finance (DeFi), there has been a greater emphasis on the function of oracles, and Band Protocol has emerged as one of the space's rising stars.
Band Protocol can interface with a number of blockchains, which might make it even more helpful in the future if dapps develop outside of the Ethereum environment. Here's all you need to know about Band Protocol and the BAND token, as well as how to purchase BAND.
Band Protocol is a cross-chain oracle that decentralized apps utilize to retrieve data from web-based APIs (application programming interfaces). It works with a variety of blockchains, including Ethereum and Cosmos, which is becoming increasingly crucial as dapps hunt for less-congested blockchains to call home.
Band Protocol was first introduced on the Ethereum blockchain in October 2019, however it was migrated to Cosmos and relaunched in June 2020 with new features and a simpler structure.
Band Protocol's most obvious use case is in finance dapps, and it works with data providers such as Binance and CoinGecko on that front. However, the organization has also identified a variety of other potential use cases, including sports scores, weather, esports data, and verifiable random number generation.
How does Band Protocol work?
Band Protocol, like other oracles, is basically the connecting tissue between a blockchain-based dapp's smart contract and a real-world data source situated outside of the network. Many dapps rely on such data to function and serve consumers, and they must have the most up-to-date, correct data to perform properly.
The BandChain blockchain is utilized to connect those off-chain data sources to the smart contract, with a decentralized network of validators creating blocks to validate those transactions.
Did you know that?
Band Protocol's co-founders were first introduced to crypto in 2014 when MIT offered a $100 Bitcoin airdrop to students who completed a survey.
What's so special about Band Protocol?
Some oracles are only linked to Ethereum, which makes sense given that it is the driving force behind the vast majority of dapps. Band Protocol, on the other hand, integrates with other blockchains, serving as a critical piece of infrastructure for dapps produced elsewhere.
As dapp developers seek to other blockchains for faster transactions and reduced costs, Band Protocol might be a key tool in enabling a bigger dapp ecosystem beyond Ethereum.
Among other partnerships, Band Protocol has joined the OpenAPI Initiative alongside tech giants such as Google and Microsoft to help define a standard for APIs—which is what Band uses to pull data from off-chain sources and bridge it over to blockchains.
What can you do with Band Protocol?
Dapps employ Band Protocol to access real-world data from outside the blockchain. However, there may be an incentive for the typical user to possess and use the BAND token. BAND is used to pay for blockchain transactions, for governance, and to compensate validators for producing new blocks. To gain rewards, anybody can stake BAND and assign it to a validator.
BAND employs an inflationary approach on tokens, which is intended to gradually reduce their value. This is done to incentivize users to participate in network staking in order to earn additional tokens via staking incentives, with the objective of having 66 percent of all BAND tokens staked at any given moment. The annual inflation rate changes based on that target percentage.
Band Protocol's current roadmap
Band Protocol released their revised roadmap for 2021 on February 3. The primary goals for the first half of the year are to improve the basic technological stack, establish a more efficient integration team (to assist the protocol integrate with other blockchain applications), and expand its worldwide community.
Even more significant milestones are planned for the second half of 2021. This features the release of BandChain Phase 2. This is intended to provide additional freedom to institutional-grade data providers that want to commercialize their use of Band Protocol. They will be allowed to charge fees for the data they supply in a variety of ways.
The Band Protocol team would also like to provide a self-service integration method. This will offer the resources required by anyone who want to use Band Protocol's oracles on BandChain. According to the plan, this will result in a large rise in the volume of data demands on the network. This will also free up space for the engineering team.
The company also wishes to collaborate with major corporations and institutional data suppliers. Once Phase 2 is complete, these collaborations will be showcased.
Where and how to buy BAND
BAND may be purchased on a variety of cryptocurrency exchanges, including centralized exchanges like as Coinbase, Binance, Huobi, and Binance.US, as well as decentralized exchanges such as Uniswap and Kyber Network.
Here's how you can buy BAND from an exchange, using Binance.US as an example. Simply look for BAND on the exchange's list of supported coins, and then decide whether to buy, sell, or swap it for other cryptocurrencies on the platform.
In this scenario, we entered a $20 USD purchase from a bank account. That was comparable to 2.49 BAND based on the price at the time of purchase and less the $0.10 transaction charge.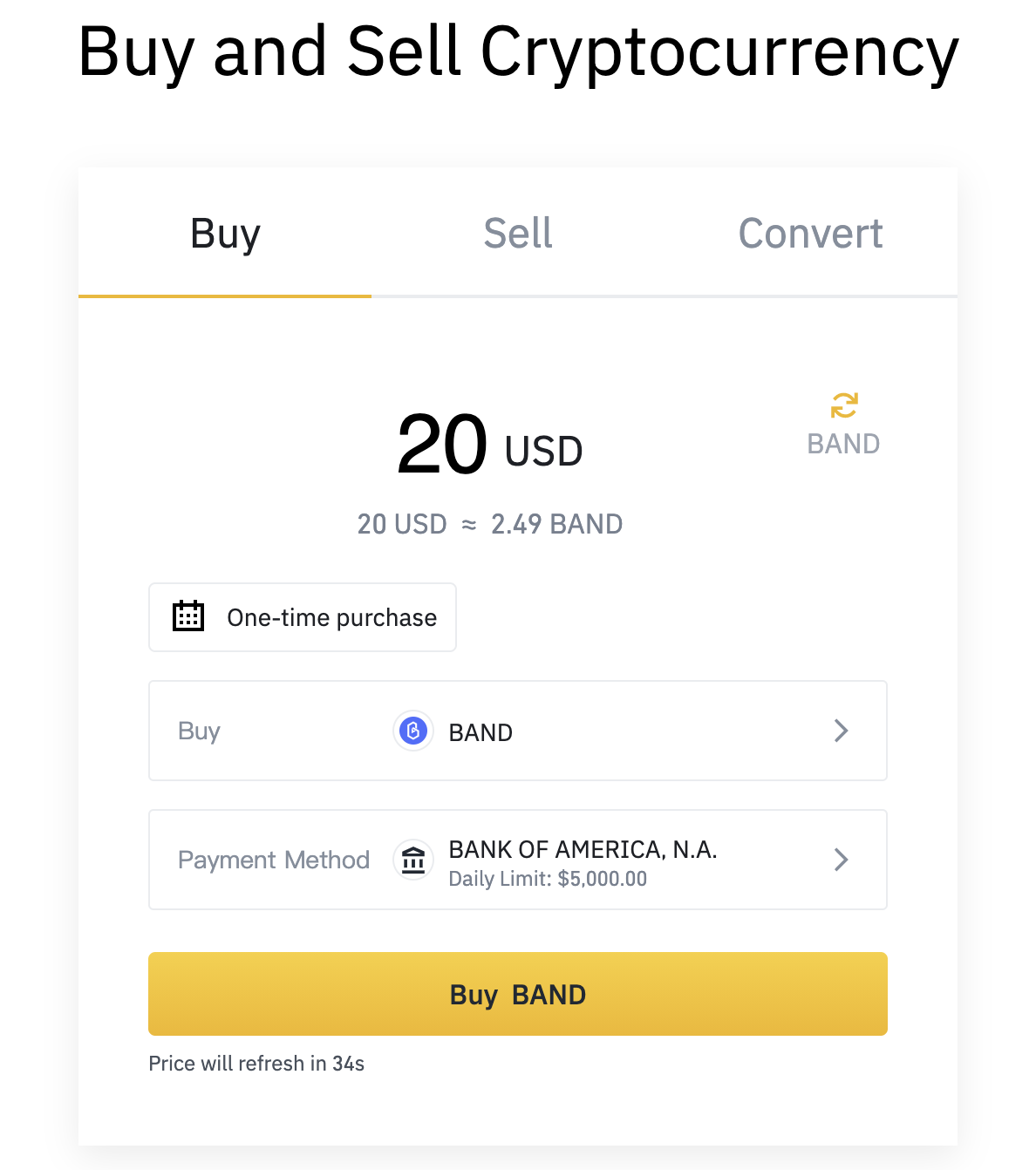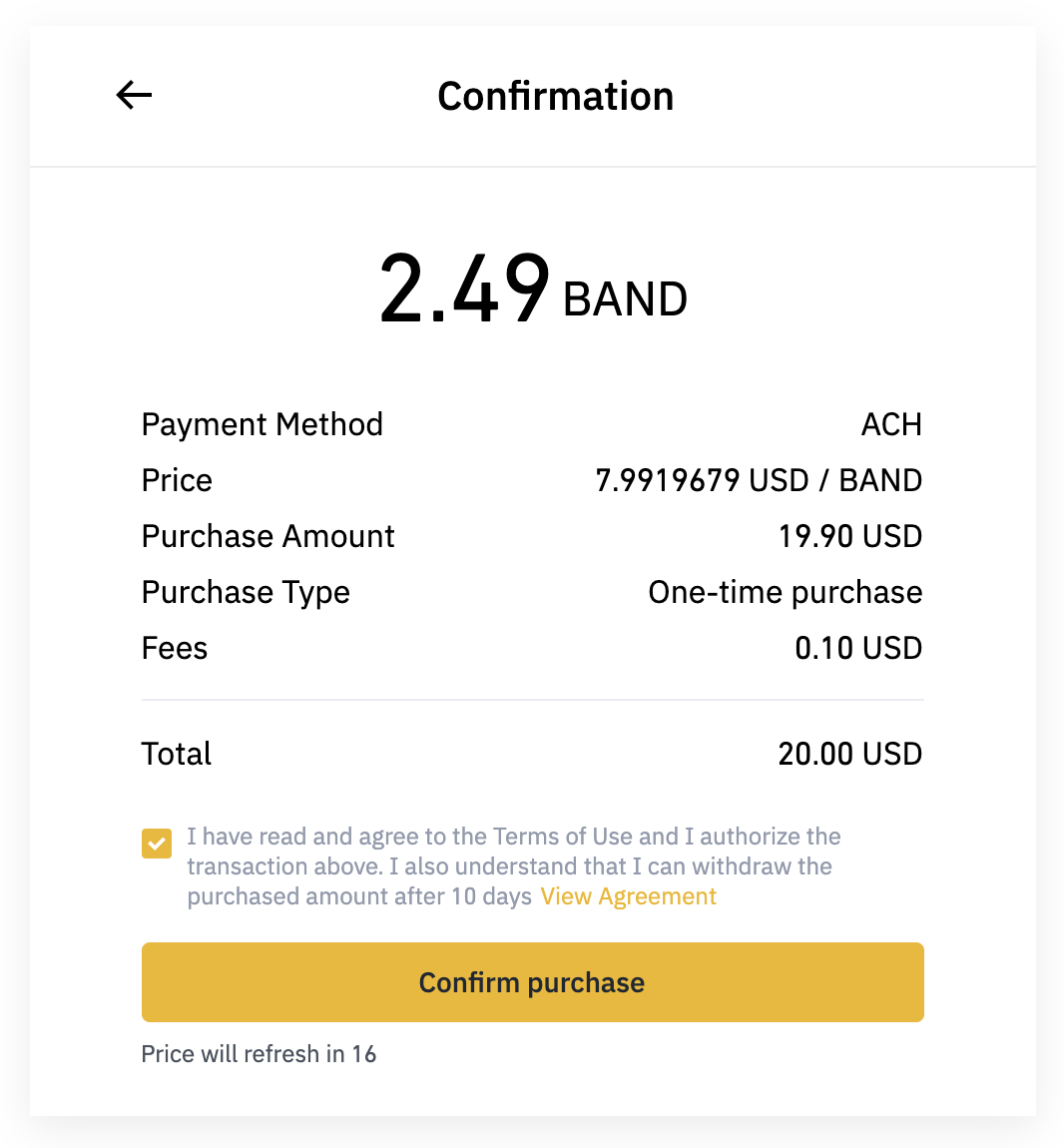 Simply click confirm purchase and the transaction should complete within seconds and appear with your wallet on the exchange. If you want to stake BAND, you can transfer it to a wallet app such as Atomic Wallet.
The future
Band Protocol's adaptability, as previously stated, makes it potentially beneficial to a wide range of dapps. While Ethereum is presently at the core of the majority of big decentralized apps, it is facing issues like as the rising cost of transaction fees.
As alternatives arise, offering reduced congestion and other possible technological advantages, Band Protocol's "jack of all trades" approach, which works across different blockchains and relies on community data sources, might benefit.
Chainlink, on the other hand, has a very solid presence in the crypto sector, and as of this writing, LINK has a market valuation that is more than 40 times that of BAND. It's a significant edge that is unlikely to vanish fast. Band Protocol implies that its advantage comes at a cost each transaction, and it undoubtedly intends to chip away at Chainlink's massive lead as it pushes for wider adoption.
Band Protocol's future success may be heavily reliant on Cosmos's as well. Although Band is agnostic to blockchains, its own blockchain is currently based on Cosmos, which calls itself as the "Internet of blockchains," supporting cross-chain compatibility for a vibrant ecosystem.
It has a similar ethos to Band Protocol, and if Cosmos succeeds, Band Protocol might become the oracle of choice for blockchains created using Cosmos technology.
Cannot load blog information at this time.