279 total views
NEAR is a smart contract-capable blockchain that aims to be the next-generation platform for dapps, with its own proprietary scaling method.
Blockchains capable of running smart contracts are not new. They've been around since 2015, when the Ethereum mainnet was launched, and there are currently more than a dozen comparable platforms in operation.
Nonetheless, despite the rapidly expanding demand for decentralised applications (dapps) and the development of increasingly complex and powerful dapps, some main friction points continue to impede their acceptance.
Decentralized applications (dapps) are programmes that run on top of a decentralised blockchain, such as Ethereum or the NEAR Protocol.
NEAR is a newcomer that aims to address the constraints of existing systems by providing a community-governed sharded blockchain platform that prioritises interoperability and scalability.
What is Near Protocol?
NEAR is a decentralised development platform that aims to create the optimal environment for dapps by eliminating some of the constraints of competing systems, such as low throughput, slow speeds, and insufficient cross-compatibility.
It is built on the NEAR Protocol, a developer-friendly proof-of-stake (POS) blockchain that combines a number of innovations to increase scalability and lower costs for developers and end users. Its features include a novel approach to sharding and a powerful new consensus mechanism called 'Doomslug.'
It is being built by the NEAR Collective, a worldwide community of researchers, developers, and thinkers, who wrote the initial code for the NEAR Protocol and continue to support the project by releasing bug fixes, updates, and building out the surrounding NEAR ecosystem. Since the code for NEAR is open source, anybody can join the collectible and begin contributing towards its development.
How Does Near Protocol Work?
NEAR, like Ethereum, Cardano, and TRON, is a "base-layer" blockchain, which means it serves as the framework for other applications to be constructed and implemented.
NEAR achieves its huge throughput capabilities with the usage of a technique known as Nightshade. Individual sets of validators execute transactions in parallel over numerous sharded chains as part of the scaling strategy to increase the blockchain's overall transaction carrying capacity. This technique differs from other blockchains' sharding systems in that each shard produces a fraction of the next block, known as a "chunk." These are processed and immutably stored on the NEAR blockchain to finalize transactions contained within.
See also
The Pitfalls of Automated Trading and How to Avoid Them
NEAR offers Doomslug, a novel consensus mechanism that boosts efficiency while assuring blocks reach finality in seconds by having validators take turns producing blocks rather than competing directly based on their stake.
It's designed to make things easier for developers while simultaneously providing them with a robust toolkit for creating next-generation applications. Because NEAR employs a contract-based account architecture, developers can create sophisticated apps that can sign transactions on behalf of users, allowing them to carry out agreements without the user having to be physically there to confirm the action.
What's so special about it?
NEAR is designed to be a next-generation platform for dapps. To achieve this, it tackles some of the longest-standing issues in the blockchain space, as well as some that have only become apparent relatively recently.
For one, NEAR is incredibly fast. It's able to process somewhere in the order of 100,000 transactions per second (tps) and achieves transaction finality near-instantly thanks to a 1-second block cadence. According to NEAR, its technology means it can achieve transaction fees that are 10,000x lower than they are on Ethereum — making them essentially negligible.
Though its technological advantages are likely its most compelling selling point, NEAR is also designed to be friendly to those with little to no knowledge of blockchain, according to what is known as "common sense onboarding." This means that ordinary users will be able to access dapps built on NEAR through a similar registration procedure to what they're used to. This could help developers reach a larger audience while also decreasing friction for people who are already familiar with dapps.
NEAR offers a variety of modular components to developers to assist them accelerate development and get their projects off the ground quicker. These include example implementations of non-fungible tokens (NFTs), faucets, token contracts, guest books, and more. The full range of examples and their code can be found on the official NEAR Github repo.
Who is building on NEAR?
Despite launching its mainnet less than a year ago, there are a large number of projects already building on the platform. Some of these include:
Flux: A decentralized open market protocol that launched on NEAR in August 2020.
Mintbase: A platform that makes issuing and selling NFTs simple and cheap.
Paras: An NFT marketplace that focuses on high-quality works curated by select artists.
See also
The Top 12 Crypto Ad Networks, The Best Bitcoin Ad Network in 2021
The NEAR Foundation is currently operating the NEAR Grants Program (NGP), which supports projects that helps grow the NEAR ecosystem and its community. A total of $1 million worth of grants will be awarded in H1 2021.
What is the NEAR token?
NEAR, like the great majority of blockchains, has its own native utility token, suitably dubbed 'NEAR.' It is the token that is used to incentivize nodes on the NEAR network, as well as to power transactions and the multiple NEAR smart contracts.
NEAR token holders can participate in the on-chain governance of the NEAR platform as a community-governed platform, or they can have a validator vote on their behalf.
Discussions about the development and marketing of NEAR products and the surrounding NEAR ecosystem are currently held on the governance forum. Users can also submit their suggestions to the NEAR Enhancement Proposals repository (NEPs) on Github.
Where and how to buy NEAR?
If you wish to get engaged with NEAR or start using any dapps built on the NEAR platform, you'll need to obtain some NEAR tokens.
Though they can be obtained through participating in development bounties, staking, and running an NEAR community, the quickest method to obtain them is to purchase them via a supported exchange platform, such as Binance, Huobi Global, or OKEx.
We'll go over how to acquire them with Tether (USDT) on Binance—the most liquid exchange for NEAR right now.
Step 1: Register on Binance and top up your account with USDT or another supported asset. Right now, Binance supports conversions for NEAR against Tether (USDT), Bitcoin (BTC), Binance USD (BUSD), and Binance Coin (BNB).
Step 2: Head over to your designed NEAR market on the Binance spot exchange, e.g. NEAR/USDT or NEAR/BTC.
Step 3: Here, you'll find the Binance trading interface. At the bottom of the page, select the 'Market' option from the order panel.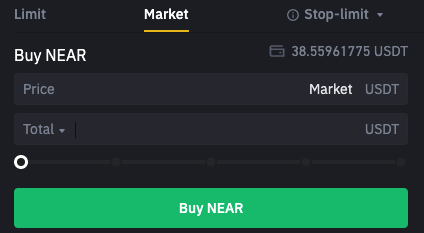 Step 4: Enter the amount of USDT you want to spend and click 'Buy NEAR'—this will automatically execute your order at the best available price. Your NEAR will then be deposited to your Binance account balance, ready to withdraw or trade.
See also
What exactly Is Polygon (MATIC) and Why Is It Important for Ethereum?
Near Protocol: The future
NEAR published its long-awaited Ethereum-to-NEAR bridge, known as the Rainbow Bridge, earlier this month. Users can use this to convert their Ethereum ERC-20 tokens to NEAR for use inside the NEAR dapp ecosystem. This is a significant step towards NEAR's goal of making the platform as accessible as possible.
The next stage is for NEAR to integrate support for the Ethereum Virtual Machine (EVM), which is the software stack that Ethereum utilises to run decentralised apps. Once completed, developers will be able to re-deploy their Ethereum dapps on NEAR with little to no changes required, removing a key barrier to cross-chain deployment.
Cannot load blog information at this time.