778 total views
Polygon, formerly Matic Network, is an interoperability and scalability platform for creating Ethereum-compatible blockchains.
Matic Network, an Ethereum layer 2 scaling solution, renamed as Polygon—an interoperable blockchain scaling framework—in February 2021.
Here, we'll look at what Polygon hopes to accomplish and how it differs from other blockchain interoperability efforts like Polkadot and Cosmos.
Previously known as Matic Network, Polygon is a framework for building interconnected blockchain networks.
It seeks to address some of Ethereum's major limitations—including its throughput, poor user experience (high speed and delayed transactions), and lack of community governance—using a novel sidechain solution.
Rather than being a simple scaling solution like its predecessor Matic Network—which uses a technology known as Plasma to process transactions off-chain before finalizing them on the Ethereum main chain—Polygon is designed to be an entire platform designed for launching interoperable blockchains.
Through Polygon, developers can launch preset blockchain networks with attributes tailored to their needs. These can be further customized with a growing range of modules, which allow developers to create sovereign blockchains with more specific functionality.
How does Polygon work?
Polygon's architecture is best described as a four-tier system made up of the Ethereum layer, the security layer, the Polygon networks layer, and the execution layer.
The Ethereum layer is simply a collection of smart contracts built atop Ethereum. These smart contracts manage transactions, staking, and communication between Ethereum and the numerous Polygon chains. The security layer operates alongside Ethereum and provides a "validators as a service" function, allowing chains to benefit from an extra layer of security. The Ethereum and Security layers are entirely optional.
Did you know?
A sidechain is a semi-independent blockchain that runs alongside an associated'main chain' to boost its speed or capabilities.
There are two required levels after this. The first is the Polygon networks layer, which is the ecosystem of Polygon-based blockchain networks. Each of them has its own community and is in charge of achieving local consensus and generating blocks. The second layer is the Execution layer, which is Polygon's Ethereum Virtual Machine (EVM) implementation for smart contract execution.
Because of Polygon's arbitrary message passing features, chains launched on Polygon can communicate with one another as well as with the Ethereum main chain. This will allow a slew of new use-cases, including interoperable decentralized applications (dapps) and the simple exchange of currency between platforms.
​Polygon: Ethereum's Internet of Blockchains
Polygon is intended to pave the way for a future in which multiple blockchains function not as closed-off silos and private communities, but as networks that integrate into a larger linked environment.
Its long-term objective is to establish an open, borderless society in which people can engage with decentralized products and services without having to go via middlemen or walled gardens first. It attempts to provide a hub into which other blockchains may readily plug in while also addressing some of their unique drawbacks, such as excessive fees, poor scalability, and inadequate security.
Polygon uses a variety of technologies to achieve this expanded vision, these include:
POS Chain: Polygon's main chain is an Ethereum sidechain known as the Matic POS Chain, which adds a proof-of-stake (POS) security layer to blockchains launched on Polygon.
Plasma Chains: Polygon makes use of a scaling technology known as Plasma to move assets between the root chain and child chains via Plasma bridges.
ZK-rollups: An alternative scaling solution used to bundle a large number of transfers off-chain into a single transaction, using zero-knowledge proofs for the final public record on the Ethereum main chain.
Optimistic rollups: A solution that runs on top of Ethereum to facilitate near-instant transactions through the use of "fraud proofs".
Polygon, as you may have noted, aims to include more than one scaling option, in keeping with its aim of lowering entry barriers by striving to keep transaction costs to a bare minimum. Polygon is hedging its risks by employing a multi-pronged strategy to scaling, in case any single scaling method fails to achieve its goal.
What's so special about it?
The Polygon project is one of the most recent attempts at blockchain interoperability and scalability, and it is intended to alleviate some of the apparent constraints of interoperability projects like Polkadot and Cosmos.
For starters, it is compatible with the Ethereum Virtual Machine, making it accessible to individuals who are used to developing apps on Ethereum and programming in Solidity; Cosmos, on the other hand, employs a WASM-based virtual machine.
Another advantage of Polygon's shared security approach is that it is fully optional; sovereign platforms do not have to give up any independence or flexibility for the sake of extra security if it is not required. It also promises to be adaptable enough to include any scaling method, in addition to the existing Plasma chains, ZK-rollups, and optimistic rollups.
Polygon's scaling technology has already been used in a number of applications, including:
? EasyFi – a decentralized borrowing and lending platform with support for undercollateralized loans.
? Aavegotchi – a DeFi trading game based around non-fungible tokens (NFTs).
What is MATIC token?
Despite the fact that Polygon has significantly expanded on Matic Network's goal, it continues to employ the same utility token, known as MATIC.
The MATIC token is utilized in the Polygon ecosystem for a number of functions, including participating in network governance by voting on Polygon Improvement Proposals (PIPs), contributing to security through staking, and paying gas costs.
As of March 2021, it is unclear whether the MATIC token will have any extra usefulness in the wider Polygon concept.
Where and How to Buy MATIC
The MATIC token is now one of the top 100 biggest cryptocurrencies in terms of market value and enjoys high liquidity. It may be purchased and traded on a wide range of cryptocurrency exchanges, including tier 1 platforms such as Coinbase Pro, Binance, Huobi Global, and Poloniex, as well as the prominent decentralized exchange Uniswap.
If you want to buy MATIC, here's how you do it using Binance, one of the exchanges with the most liquidity for the asset. For the sake of this tutorial, we'll demonstrate how to purchase MATIC with a debit or credit card.
Step 1: First, you're going to need to either create a Binance account or log in to your pre-existing account.
Step 2: Once logged in, hover over the 'Buy Crypto' option at the top of the site, and select the Credit/Debit Card option.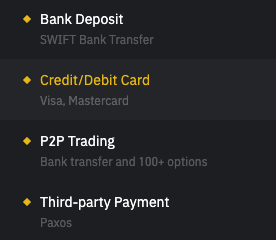 Step 3: On the right, choose your payment currency and enter the amount you want to spend on MATIC. Then, select MATIC from the list of available cryptocurrencies in the drop-down menu.
Once you're happy with your order details, click the 'Buy MATIC' button.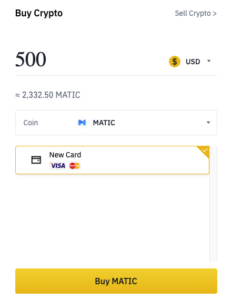 Step 4: If you haven't already completed identity verification, you'll need to complete it now. Follow the on-screen steps to get your identity verified.
This process will usually take just minutes, after which you'll see the payment screen shown below.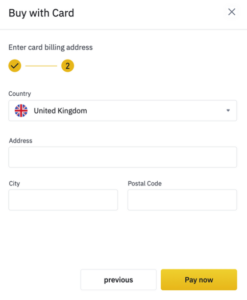 Step 5: For the last step, enter your payment details and click the 'Pay now' button. Your order will then be processed at the best available rate, and your MATIC will be delivered straight to your Binance account wallet.
That's it! You're now the proud owner of MATIC.
The future
The competition to be the first interoperability solution to go completely online has begun. Polygon's proof-of-stake chain and Plasma scalability solution are now operational, but developers will be unable to start their own independent or shared security chains on Polygon until these features are available. Similarly, neither ZK-rollups nor optimistic rollups have been introduced on the network, leaving Plasma as the sole scaling solution on Polygon.
Polygon's competitors are likewise rushing to launch their products. Polkadot has yet to offer public parachains as of March 2021, but Cosmos' Stargate update has seen the debut of its Interblockchain Communication Protocol (IBC), it won't become fully operational until IBC transactions are enabled on the network.
Given that Polygon was only announced in February 2021, there is no roadmap outlining how development will go or which features will be prioritized. However, the Polygon team has been hard at work developing alliances with companies like as Mogul Productions, Umbria, Atari, and OpenPredict, which plans to launch its first speculation markets product on Polygon.
News from: KogoCrypto | Bitcoin, Ethereum & Crypto News
613 total views
613 total views November was a challenging month not only for the spot market but also for the DeFi
825 total views
825 total views Democrats and members of the Senate Banking Committee have raised concerns about Saule Omarova's nomination for
932 total views
932 total views Buterin proposed a decrease-cost-and-cap approach to alleviate unprecedented amounts of demand on the network without risking
863 total views
863 total views ConstitutionDAO has caught the imagination of nearly every faction of the crypto sector. 17,494 buyers or
456 total views
456 total views The metaverse, or the hyptonized digital iteration of the cosmos in which we exist, is the
360 total views
360 total views The hysteria around India's cryptocurrency ban has created an unstable atmosphere for cryptocurrency exchanges. Ecosystem stakeholders
347 total views
347 total views You may be one download link away from conversing with friends, keeping up with community conversations,
337 total views
337 total views Coin of the meme Shiba Inu is adamant about establishing its domination in space, and it
1,219 total views
1,219 total views Since 2018, Chainlink has had a close relationship with Bitcoin. LINK surged whenever the king coin
1,250 total views
1,250 total views The results are in, and the people of Uniswap have spoken. Surprisingly, nearly all of the