282 total views
The DeFi Pulse Index allows you to purchase one token and receive exposure to the most important tokens in decentralised finance.
The index fund, ah, the index fund. If you invest in hundreds of equities at once, such as the whole S&P 500, you may spray and pray your way to conservative financial success in a matter of decades. So what if Elon Musk smashes Tesla into a wall or climate change destroys the oil and gas industry? You've put your money into the entire market.
Since the mid-1970s, Vanguard has established an empire by offering low-cost, tax-efficient index funds and ETFs, and famed stock picker Warren Buffett told CNBC that they "make the most sense practically all of the time."
Decentralized finance (DeFi) companies are attempting to achieve the same for their own tough industry as an alternative to investing in a niche cryptocurrency yield farm your mother's son's father's dog promised you would fly you to the moon.
There are numerous DeFi index fund providers, but they all function the same way: a DAO, algorithm, or firm selects a number of tokens from the realm of programmable finance, mixes them into a pot, and then sells shares in this pot using a single index token.
The index token's worth represents the average price of the tokens in the pot, thus purchasing the index token is equivalent (approximately) to investing in the whole DeFi market.
The most popular is DeFi Pulse Index (DPI), which lets you gain exposure to a whole basket of top DeFi tokens through a single token.
Launched in September 2020, the DeFi Pulse Index consists of the 10 most popular  DeFi coins are available On Ethereum,and are the following: LEND, YFI, COMP, SNX, MKR, REN, KNC, LRC, BAL, and REPv2.
Instead than purchasing all of these DeFi tokens and maintaining your own portfolio, you may just purchase a single ERC-20 token that gives exposure to all ten tokens. The token is rebalanced on a monthly basis to reflect the current status of the market.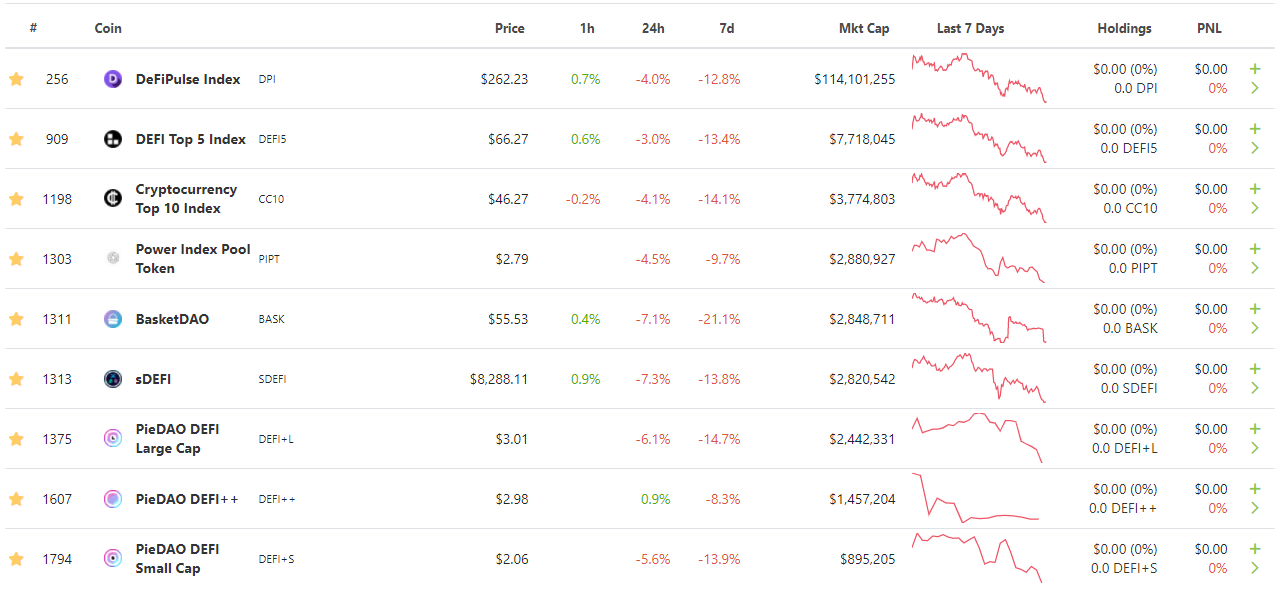 DPI picks its tokens according to a DeFi project's market cap and re-weights its index on the first day of every month. (More on the methodology used here.)
The token may be used to hedge the market or as collateral on lending platforms like Aave or Compound, as well as yield farming protocols.
It is also considerably less expensive than purchasing all of the tokens on decentralised exchanges; you only need to purchase or sell the token once to invest in the market, saving on Ethereum's exorbitant gas fees. However, it is only slightly less expensive than purchasing all of the tokens on conventional crypto exchanges. And, because rebalancing occurs only once a month and the basket is limited to the top ten tokens on Ethereum, you won't benefit from the latest DeFi project's insane one million percent increase on another blockchain.
Where can you purchase DPI?
The DeFi Pulse Index may be purchased on conventional cryptocurrency exchanges such as eToro and Crypto.com, as well as decentralised markets such as Uniswap.
It's also compatible with a variety of DeFi platforms and protocols, including Pillar, Zapper and Dharma.
DeFi Pulse Index has partnered with the Set Protocol, which allows for the creation, management, and trading of "Sets," which are baskets of ERC-20 tokens that represent a portfolio of underlying assets.
What's the story behind DPI?
The Defi Pulse Index was created by Index Cooperative, a decentralized autonomous organization (DAO) that develops crypto investment products.
The DAO is comprised of DeFi specialists, business development professionals, and marketers; DeFi Pulse, Set Labs, and the other participants each have a voting stake.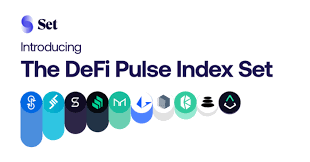 Index Cooperative has collected $166 million in assets under management since its inception in October 2020, and it recently crossed $1 million in total income, according to Lemonade Alpha, one of the DAO members.
Also this month, the DAO closed a $7.7 million funding round led by Galaxy Digital and 1kx. The devs plan to spend the money on growing the network and developing the protocol.
What's the future for DPI?
A long-term plan is essential; the DeFi Pulse Index is not the only token of its kind, and more are becoming on the market all the time. DPI's main rivals are presently the DeFi Top 5 Index (DEFI5) and the PieDAI DeFi Large Cap (DEFI+L).
However, the survival of indexes like DPI is linked to DeFi and the larger crypto market, which has experienced significant losses recently. DPI is currently worth $263.14, a decrease of 57.6 percent from its all-time high of $621.21 in May of last year. But it's not all bad news because the token is still up 360 percent from its low of $57.20 in November 2020.
Still, it may take more than that for Buffett, a crypto-hater, to take a chance.
Cannot load blog information at this time.