302 total views
Avalanche is a platform that allows you to create sophisticated decentralised applications and unique blockchain implementations. This is how it works.
A handful of big firms have arisen in the last year in the contest to create the quickest, most feature-complete blockchain.
Avalanche, an open-source platform for new financial primitives and decentralised applications, has emerged as a front-runner among these.
Here, we look at what makes it unique in an increasingly crowded business.
What is Avalanche?
Avalanche is a new platform built by Ava Labs that enables anyone to create their own multi-functional blockchains and decentralised applications with ease (dApps).
It is intended to overcome some of the shortcomings of older blockchain platforms, such as sluggish transaction speeds, centralisation, and scalability, and employs a number of innovations to do so. This includes its one-of-a-kind Avalanche consensus protocol, which promises low latency, high throughput, and resilience to 51% attacks.
Avalanche will launch its mainnet in September 2020, barely two months after earning $42 million in a token sale that sold out in just five hours.
How does Avalanche work?
At its core Avalanche is built around a system of three interoperable blockchains: the Exchange Chain (X-Chain), Contract Chain (C-Chain), and Platform Chain (P-Chain).
Briefly, the X-Chain is used for the creation of new digital assets, whereas the C-Chain is Avalanche's Ethereum Virtual Machine (EVM) implementation, and the P-Chain is used for coordinating validators and creating subnets.
Did you know?
Subnets are a set of validators tasked with achieving consensus on one or more Avalanche blockchains.
The P-Chain and C-Chain are secured by the chain optimised 'Snowman' consensus, which helps to enable high throughput safe smart contracts, whereas the X-Chain is protected by the DAG-optimized 'Avalanche' consensus—a secure and scalable protocol that can achieve transaction finality in seconds.
Avalanche is able to optimise for flexibility, performance, and security by dividing its design across three distinct blockchains. Because developers have a great level of freedom in the types of apps they can design, it is a powerful platform for both public and enterprise use cases.
The platform is centered around the AVAX, the native utility token for the Avalanche ecosystem, and is used for paying network fees, staking, and providing a "basic unit of account" between Avalanche subnets.
What's so special about it?
According to Ava Labs, the platform can process 4,500 transactions per second, compared to 7 tx/sec for Bitcoin and 14 tx/sec for Ethereum. It can also complete transactions in under 3 seconds. As a result, it may be more suited for massively scaled decentralised applications, which would be bottlenecked on several competing platforms.

Besides being highly scalable, Avalanche is also built to tackle another major problem facing blockchain-based systems today: interoperability. It achieves this by enabling blockchains both within a subnet and between subnets to communicate with one another, allowing them to complement one another and support cross-chain value transfers.
It's also surprisingly inclusive. While many proof-of-stake (PoS) blockchains only let a limited number of validators to participate in reaching consensus, Avalanche allows anybody pledging at least 2,000 AVAX to do so.
As of February 2021, Avalance's main competitor is Ethereum, the blockchain platform that currently rules the DeFi industry. Although it supports the Ethereum Virtual Machine (EVM), Avalanche employs a distinct consensus process to safeguard the network and also allows for cross-chain value transfers without the usage of bridges.
What can you do with Avalanche?
Avalance enables people and businesses to effortlessly instal their own purpose-built blockchains, whether for private (permissioned blockchains) or public use-cases (permissionless).
It is unique in that it combines many custom-built blockchains with a powerful proof of stake consensus mechanism to provide a very decentralised and powerful platform for developers to build on.
Because Avalanche is compatible with the Ethereum toolkit, developers may quickly convert their Ethereum dApps to the platform and deploy a vast array of decentralised apps (dApps) on it. These programmes can run on their own Avalanche blockchain, providing developers complete control over how they're secured and function, as well as who can access them.
Because of these capabilities, Avalanche's development activity has skyrocketed in its short history, and there are now a wide range of applications that use Avalanche's technology, including those involving private securities (Securitize), prediction markets (Prosper), and stablecoins (Bilira—a Turkish Lira stablecoin).
Where and How to Buy AVAX
The Avalanche token (AVAX) is available to purchase and trade on a wide variety of exchange platforms, including Binance, OKEx, Bitfinex, Huobi Global, CoinEx, Paribu, WazirX, OKCoin and Hotbit.
Here's how to buy AVAX on Binance—currently the most liquid exchange for AVAX tokens.
Step 1: Create your Binance account and load your wallet with one of the trading pairs for AVAX. In this case, we're using Tether (USDT).
Step 2: Once your deposit is confirmed, head over to the AVAX/USDT spot trading page.
Step 3: On the bottom of the trading page, you'll find the order panels. Select the 'Market' tab.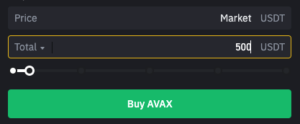 Step 4: In the total field, enter the amount of USDT you'd like to spend on AVAX. Once you're happy, click the 'Buy AVAX' button to execute your order at the best available price.
​Your AVAX will then be found in your exchange spot wallet, and will be free to trade, invest, or withdraw.
What is Pangolin DEX?
Pangolin is a community-driven decentralized exchange (DEX) platform that is supported by Ava labs.
It's a sort of DEX known as an automatic market maker (AMM), which means it sets prices using algorithms rather than order books. Pangolin is an important aspect of Avalanche's expanding decentralised finance (DeFi) ecosystem, and it was created to demonstrate the platform's possibilities.
​Being built on Avalanche, Pangolin features extremely low fees and quick performance. It's also compatible with all Avalanche and Ethereum tokens, giving users a range of liquidity pools to trade from.
Like many other AMM-type decentralized exchanges, Pangolin also features a liquidity mining incentive program, which sees liquidity providers earn the platform's native governance token—known as PNG.
The future
Avalanche has only been operating for a little over a year, but it is already making a name for itself. In keeping with this, a slew of new advancements and product releases are in the works for the new feature.
The impending Apricot upgrade, which will bring a variety of changes to Avalanche, is one of the most significant advances. They include'verifiable pruning,' which allows nodes to come online in a fraction of the time; a token issuer freeze and unfreeze mechanism; and native ERC20 compatibility. There is no estimated release date for the Apricot upgrade at this time.
Beyond this, layer-2 decentralized exchange platform Injective Protocol will be integrating with Avalanche to bring a diverse array of interoperable derivatives to the platform.
Further on the horizon, there are plans to add a privacy-oriented virtual machine 'Privacy VM' which will eventually allow for private smart contracts on Avalanche, one of the most significant upgrades on the Avalanche roadmap.
Cannot load blog information at this time.